---
já a zase já
28. 1. 2008
Jméno: Anna Makovská

Datum narození: 25.3. 1991

Znamení: beran

Škola: Anglické Gymnázium obor: Obchodní akademie v Pardubicích

Koně: Sarah, Darie, Princ, Goldie.

Disciplína: Všestrannost

Výkonnost ve všetrannosti: CCI*

Výkonnost ve skocích: S

Výkonnost v drezuře: L

Záliby: Snowboard, focení, internet

Cíl pro sezonu 2008: ME juniorů, CCI **, S- parkur,a MS sedmi letých koní v Le Lion de Angers.




Na koni jezdím od svých 10 let. Jezdit jsem začínala na ponících a huculech v nedaleké stáji ve Svobodných Hamrech . Pak jsme se rozhodli koupit prvního koně a zamířili do hřebčína v Měníku u Nového Bydžova.Vybrali jsme 3letého valacha po Papillion jménem Princ. Kůň zůstal ustájen v hřebčíně, takže jsem za ním každý týden dojížděla. V hřebčíně jsem jezdila hodně koní, ale nejradši jsem měla poničku Daiu, se kterou jsem absolvovala své první military. Účastnily jsme se závodů v Pardubicích, Kolesách, Šumperku, Lošticích. Splnily jsme si kvalifikaci na MČR pony ve všestrannosti stupně ZK. Náš nejlepší výsledek bylo 2 místo na pony závodech ve všestrannosti v Hěřmanově Městci. Dále jsem jezdila klisnu Kasidu, se kterou jsem se účastnila skokových závodů v Pardubicích a ve Slatiňanech, kde jsme vyhráli soutěž Z. Po čase jsem Prince přemístila blíže k domovu a to do stájí v Pardubicích . V té době jsme zakoupili druhého koně, klisnu Sarah od pana Merunky . Se Sarah jsme v roce 2006 startovali v národních soutěžích stříbrné podkovy - v Lošticích, Kolesách, Humpolci. Účastnily jsme se MČR juniorů v Humpolci v CNC* mezi třiceti juniory jsme se umístily třináctí. Na sezonu 2007 jsme se přestěhovali do stáje ve Smrčku, kterou mám asi 13 km od domova. Rozhodli jsme se zakoupit třetího koně a to Darii, se kterou jsem startovala na mezinárodních závodech v Motěšicích,Humpolci,Jaroszowce a národních závodech v Pardubicích stupně stříbrné podkovy. Dále jsem s Darií startovala ve svém prvním S parkuru. V lednu 2008 se stala posilou mé stáje klisna Goldie, se kterou plánuji start na ME juniorů ve všestranosti. Kvalifikaci na ME juniorů 2008 mám splněnou s klisnou Sarah, která se v sezoně 2007 účastnila závodů v Pardubicích ,Humpolci, Motěšicích, Jaroszowce, Sommerau na úrovni CCI*. Také jsme si splnily kvalifikaci na MS mladých koní ve francouzském Le Lion de Angers. Takže tohle je prozatím o mně vše.
"LOOP=-1">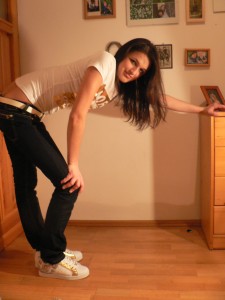 Komentáře
Přehled komentářů
---
---